The World is Obsessed with What We're Wearing Under There!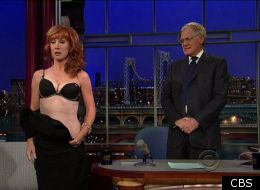 Ladies, bras and undergarments have been making news headlines a lot lately. The media seems obsessed with what we're wearing under our clothes, and some celebrities have been feeding the flames. Even international skiers are now being quizzed on their undergarments. What do you think about all the attention that women's undergarments are getting these days? Do you think that bras, panties and other undergarments should be figured so prominently in the news – or that they belong in our closets and under our clothes? No matter what you think about the topic, the reality is clear: the world is paying a lot more attention than we realize to our underwear!
Kathy Griffin Strips Down to Her Bra on David Letterman's Show
We did an article a few weeks ago on Kathy Griffin stripping down to her bra and panties during the New Year's Eve coverage. Now she's gone and done it again on popular late-night show "Late Show with David Letterman!" If you saw the broadcast, clearly Griffin is joking around after her "bra and panties" segment on the New Year's Eve coverage. But is it appropriate for Griffin to strip down again on late night television? And do you think it should be garnering all the news coverage it has?
Celebs Going Bra-Less Drawing Attention
At any given time, you can do a search for "bra" news and see half a dozen reports of various celebrities going bra-less and drawing media attention. Most of the time, these poor women have just stepped out on a day off or while they're on their own time, minding their own business, and the media swoops in and captures them "braless." Do you think news coverage is warranted when Lindsay Lohan, Rihanna, Miley Cyrus or Cameron Diaz choose not to wear a bra? Whether you consider it newsworthy or not, ladies – one thing is definitely clear from this media attention: people notice when you go out without a bra!
Slovenian Skier Dons Controversial Underwear
A Slovenian skier, Tina Maze, has made news for wearing a controversial set of long underwear whose plastic content allegedly "exceeded International Ski Federation (FIS) rules, giving her an aerodynamic edge." The FIS took away the undergarment for testing, and at an event yesterday, Maze sported a white sport bra with "Not your business" written in black marker. She showed the bra briefly to TV cameras while waiting in the leader's box at Sunday's World Cup super-G race. When asked for comment, Maze said that she wanted to make it clear that what she wears under her clothes is no-one's business; just her own.
This is only a few of the dozens of examples of women's bras and undergarments making the news lately. What do you think, ladies – do people care too much what women are wearing under their clothes? Do you think it's anyone's business what we're wearing under there? Or do you think the media should find something else to report about, and leave women's bras and underwear for fashion events, shopping venues and our closets?