The Right Bra for the Pear-Shaped Body
Women have bodies in all different shapes and sizes, but the key to looking great no matter what your size is to dress for your body shape! Full-figured women can look great in clothes that accentuate their features and help create a balanced silhouette, while even slender women may not look their best if they're not dressed in clothing that's right for their body type. Today, we're going to take a look at pear-shaped body styles. Women with pear-shaped bodies can look great; they just need to start with the right bra and go from there!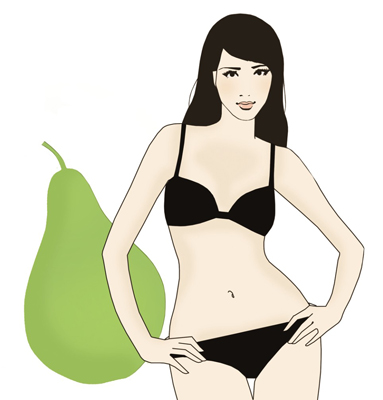 Do You Have a Pear-Shaped Body?
The North Carolina State University study we've been quoting this week found that just over 20 percent of women are pear-shaped. A pear-shaped body is exactly how it sounds; a smaller curve on top and a fuller curve on the bottom. Women with a pear-shaped body typically have wider hips and thighs; a wider bottom; narrower shoulders; and a smaller bust. A pear-shaped women should wear clothes that make them seem larger on top and smaller on bottom in order to better balance out this shape.
The Right Bra for Pear Shape Bodies
Women with a pear-shaped body look best when they wear clothes that take emphasis away from the hips and thighs and draw it to the top half of the body. You can create a more balanced silhouette by wearing bras that emphasize your bust and make it seem more proportional with your bottom half. Good bras for pear-shaped women include bras like push-up and padded bras, that emphasize your bust. Keep in mind that the right fit is essential. Depending on the size of your bust, you may want to go with cutlets or other forms of padding to help emphasize your bust and balance out that body shape.
The Wrong Bra for a Pear-Shaped Woman
To create the most balanced silhouette as a pear-shaped woman, you want to emphasize your upper half. This means you should avoid bras that minimize your bust. Minimizer bras, bralettes and bra styles that compress and deemphasize your breasts are the wrong choice for pear-shaped women. Likewise, avoid wearing sports bras that compress and restrain your bust – except when you're working out. Sports bras aren't good for every-day wear if you're a pear-shaped woman.
Dressing a Pear-Shaped Body
Shirts and tops with beautiful patterns and textures can draw attention to your upper half and help to create a more balanced silhouette. Wider necklines are a good choice to show off your neckline and shoulders. Tops should finish at the top of your hips, and you should avoid tops and short jackets that end at your bum because they can draw attention to width in that area. Boot-cut and straight leg jeans are good choices, depending on your hip size, and A-line skirts and wrap dresses are the best choice when dressing up.