The Right Bra for Apple or Upside-Down Triangle Bodies
This week, we're looking at matching the right bra with your body shape. Women come in all shapes and sizes, but many of these shapes can be condensed down into a few basic body types. Today, we'll look at the apple and upside-down triangle body shapes. 14 percent of women have apple or inverted triangle body types, so designers don't necessarily spend a lot of time catering to this body type. However, with the right know-how, you can dress your body and look great – starting with your bra.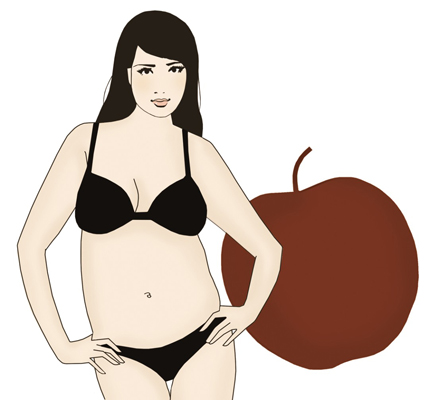 Do you have an Apple or Upside-Down Triangle Body Shape?
A North Carolina State University study conducted in 2005 revealed that 14 percent of women have a body shape similar to that of an apple or upside-down triangle. Women with this body type tend to store fat around the midsection, leading to a shape that makes them seem rounder in the middle like an apple. Women with this body shape can also seem larger on top than they are on bottom, since there's no clearly-defined waist.
Going straight from the shoulders to the hips with no clear definition in the midsection can create a silhouette like an inverted triangle; a shape that's broader on top and narrower in the bottom. Even if apples and inverted triangles aren't overweight, they may lack definition in the midsection and may have trouble dressing, or self-esteem issues, because they don't have that classic 'hourglass' figure.
The Right Bra for Apples and Upside-Down Triangles
The right bra for women with this body type is a minimizing-type bra or something that provides the support you need without emphasizing your bust. Because this body shape is naturally inclined to look larger on top than on the bottom, you can create an illusion of balance by de-emphasizing the bust.
The Wrong Bra for Apples and Upside-Down Triangles
Because apple and inverted triangle shaped women naturally appear to be bigger on top than bottom, you want to avoid bras that emphasize your bust. Things like push-up and padded bras that make your bust seem larger just upset the balance more. Avoid bras that emphasize your bust, and focus instead on coverage and support while creating a slimmer silhouette.
Clothes for Apple-Shaped Women
To create the most flattering silhouette, you want to wear flowing clothes that give you a soft silhouette instead of emphasizing those curves. Monochromes make you look longer, elongating the torso and helping to offset the balance issues that many women with this body type experience. Avoid bold patterns, large checks and light colors above your waist, as these styles can make you seem bigger on top.
Jackets should fall below the waist but above mid-thigh, and never at the fullest part of your hips because they'll make your hips look wider. Wear skirts one to five inches above the knee, and A-line skirts will be most flattering on this body type; avoid straight skirts. Finally, boot-cut jeans and low rise jeans in light colors look most flattering on this body type.