Short Legs; Long Body – Tips for Fitting
Most clothing designers create clothes primarily for a balanced body type, where the length of the upper body is roughly the same length as the lower body. Unfortunately, this type of design style doesn't take into consideration that many women have different body types. Every body is different. Having shorter legs and a longer torso is a very common body style, but designers don't take this into consideration. Do you find that shirts are often too short, shirtsleeves are too short or pants are often too long? You might have short legs and a long body. Fortunately, here at Big Girls' Bras, we understand that you want to look just as good in a swimsuit as every other body type, so we've got some tips and tricks for fitting your body perfectly.
Do You Have a Long Torso?
Some women don't even realize that they have a long torso; all they know is that some things don't look right or fit properly. In a balanced body type, the upper body is roughly the same length as the lower body. Your hip line height would be half your full height, and your waist is at your bent elbow. Women who have long torsos have legs that are shorter than their upper body. If your hip height is less than half your full height, or you have a low waist that hits lower than than your bent elbow, you have a long torso.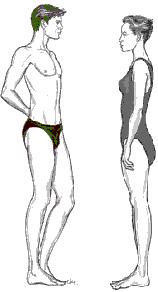 How to Look Great with a Long Torso
If you have a long torso, your goal is to create the visual illusion of longer legs and a shorter torso, in an attempt to make your body look more balanced. Women with a long torso should look for these types of styles and designs to help them look their best:
Designs that draw the up toward your shoulders and face;
Short to medium-long tops;
Medium or light colored tops and dark bottoms;
Medium to wide belt styles or designs.
If you've got a long torso and shorter legs, you should avoid these types of design details and styles:
Long tops;
Bottoms with a dropped waistband;
Dark tops with light bottoms.
The Best Fitting Swimsuits for Long Torsos
From a purely practical standpoint, women who have long torsos might want to avoid one-piece swimsuits. One-piece swimsuits might ride up uncomfortably or feel too small from your shoulders to your legs and hips because there's not enough material to accommodate your longer torso. Two-piece swimsuits are the best choice. If you prefer a modest swimsuit style, a tankini-style swimsuit still offers coverage similar to a one-piece but has the advantage of being broken up so the material length is less of an issue. You might want to look for longer tankinis that fall past the waist on the model, to ensure they don't ride too high on your long torso.
These swimsuit tips and tricks should help you find just the right two-piece swimsuit to help you look great this summer. Remember the design details to avoid, and browse our swimsuit collection to help you find your perfect swimsuit!