Sheer Shirts with Visible Bras?
One trend that is really making a splash this summer is famous actresses and female musicians wearing sheer shirts with a visible bra underneath. Once upon a time, a visible bra would be a huge faux pas. This summer, though, it seems to have become an accepted trend in the fashion industry – at least among the famous and eccentric. How do you feel about this trend toward visible bras under sheer shirts? Is there a right way to do it? And do you think an average woman could get away with it? What would the fashion police say?
The Visible Bra Trend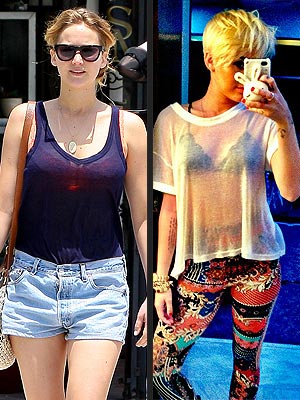 Plenty of people have been flashing visible bras through sheer shirts this season, from Miley Cyrus to Jennifer Lawrence. Rihanna rocked her audience at the MTV Music Video Awards with a sheer red shirt and visible bra. Selena Gomez rocked a sheer shirt to spice up her image. Most of these women appear to have bared their bra for the shock effect, but it's happening frequently enough that we can't ignore the fashion trend.
Some actresses have made an effort to class up the sheer shirt trend. Julia Stiles appeared on the runway in a sheer shirt and a white cami underneath, giving her a more sophisticated and alluring look. Lindsay Lohan wore a sheer shirt in NYC, baring her midriff but with an opaque top half that obscured whatever she was wearing underneath. This compromise seems like a nice nod to the trend without showing your underwear.
Let's be real, though – what actresses and singers can get away with is a bit different than what the average woman can wear. Do you think you or one of your friends could successfully rock the sheer shirt and bra combo? Where would you wear a sheer shirt and flash your bra?
Our Recommendations for the Sheer Shirt Fashion Trend

If you think the fashion police would approve your sheer shirt and bra combo, better make it something pretty and sexy! The Le Mystere Isabella All Over Lace Bra 2535 features gorgeous lace with an open sweetheart neckline to provide a truly flattering look – and if you're gonna flash it, don't you want to look your best? But you really can't go wrong with most of our lace bras if you're going to do a sheer shirt with a visible bra.
For the more modest, you can still rock a sheer shirt style with a beautiful cami instead of showing your bra. If you want a simple look, go with something like the Arianne Tina Camisole 5360, which has nice wide straps that will obscure your bra, and a flattering square neckline that gives you great coverage. If you want something a bit more feminine and alluring, you can go with something lacy, like the Arianne Victoria Camisole 5652, with the lovely print on the fabric and the lace at neckline, straps and waistline to finish the look. The plus side of going with a camisole is that you can also wear it with a business suit or low-cut shirt to give you a touch of modesty while still creating a sexy style.